$780.00
raised of $2000.00

0
Days left

39%
Funded
Funding type: FLEXIBLE
Successful
This fundraise has completed successfully.
This project will receive all of the funds invested by 31 July 2014.
Send Ryan to Hawaii to Represent USA
Ryan, a freshman in VCHS and who has been coaching with the VCBC since its start, has been invited on to Team San Diego International World Baseball to participate in an international tournament in Hawaii in August 2014.
The tournament, in a different location each year, will include teams from Brazil, Chinese Taipei, China, Canada, Argentina, Korea, Australia, Puerto Rico, Peru, Italy and Japan in addition to the USA. This year the tournament will be in Hawaii.
Ryan, who has had a great year so far catching for the VCHS Frosh/Soph team, was noticed by coaches which led to an invitation to the team to be a representative for the USA.
Here is Ryan's request:
---
About Team San Diego and the 2014 World Boys League Tournament
Team San Diego International World Baseball plays in one tournament a year which is from August 1st - 15th and this year it is in Hawaii. I feel honored that Coach Bernard asked me to play for him on this team. I don't know much about the players but the coaches are really great and friendly and want you to succeed.
Team USA means a lot to me and it would be an honor if I could go and I would hope that my parents can come and watch me.
About Me - VCHS
I am currently on the Valley Center High School Freshman/Sophomore baseball team and I play catcher. I like catching because I feel like I'm in control of the game and I'm at the center of the game and I'm in every play. Hitting is just plain fun because it feels really good to hit the ball hard.
[UPDATE: I have been moved up to be the starting JV catcher.]
Before VCHS
Before I went to VCHS I was on the travel ball teams Easton A's coached by Dave Stewart and the Zephyrs which turned into the Easton A's. Everything I have done has led me to high school baseball. Working hard gets you somewhere. A few weeks ago I was asked by the catching coach for Team San Diego if I wanted to play for him.
How I Started Baseball
I started baseball when I was age 3. I started on the first team at the YMCA. After that came Little League then travel ball then present day. All my life my dream has been the same - becoming a professional baseball player. Team USA is a big milestone for that dream. I feel like Team USA will be my way to a college which will lead me closer to my dream. In college, I want to study sports management and/or broadcasting so that I can continue with baseball after I stop playing.
Paying For My Trip
I am asking for financial help to help pay for the Team San Diego International World Baseball experience. From what my coach has said, it costs $2000 for my travel and team expenses. And that's if I go just with the team and my parents don't come. Plus it might be more depending where the team eats while out there. I am thankful for any help I can get to pay for my trip.
---
The Valley Center Baseball Club is collecting donations on behalf of Ryan to help him play on Team San Diego International World Baseball and get him to Hawaii. All donations received by the club for this will be sent to Ryan and his family for this sole purpose. If donating by check, please make payable to the Valley Center Baseball Club with "Ryan" in the memo and send to PO Box 1178, Valley Center, CA 92082. The Valley Center Baseball Club is a 501(c)(3) organization, so all donations are tax deductible.
Info about Team San Diego International World Baseball can be found here. Ryan's roster info for the team can be found here.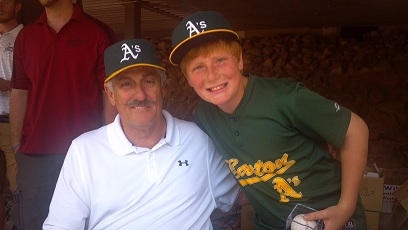 Ryan, always a fan of baseball, pictured here with Rollie Fingers.